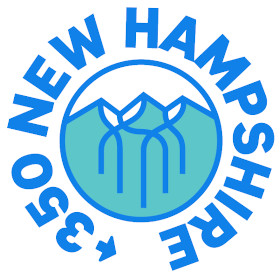 Why 350?  When 350.org was founded by Bill McKibben in 2008, scientists recommended that the concentration of carbon dioxide in the atmosphere should be kept below 350 parts per million to avoid dangerous consequences.  It was already at about 380 parts per million at that time, and now it is at 421 parts per million and rising.  No wonder our poor world is struggling with more fires, floods, storms, rising seas, and extreme weather than we could imagine in 2008.  What kind of world will our precious grandchildren inherit if we don't take action now?
Although 350.org is an international organization, the New Hampshire chapter is only loosely affiliated with it.  The local chapter sets its own goals and priorities for its operations in New Hampshire.
This is its mission:                      
Stop the climate crisis by building grassroots support for a just transition to renewable energy and an end to fossil fuel use and expansion. We envision a society with a renewable energy economy that works for all people, where all communities live free of environmental injustice and climate catastrophe.
To fulfill this mission, 350NH runs statewide and regional campaigns to stop fossil fuel expansion, shut down old fossil fuel infrastructure, and implement policies for a just transition to 100% renewable energy.  The volunteer chapters and teams propel the campaigns forward.
You've probably heard about 350NH's efforts to block the trains bringing coal to the Merrimack Generating Station in Bow, NH, the last active coal-fired power plant in New England.  And it was 350NH that got a commitment from Governor Sununu to develop offshore wind and followed up to be sure he kept his word.  350NH ran a fierce grassroots campaign to stop the proposed 27 mile Granite Bridge fracked gas pipeline and they won in 2020. And they're working with a broad coalition of grassroots organizations to foster a just transition to 100% renewable energy in New Hampshire.
Please give generously this month to support this effective New Hampshire organization.