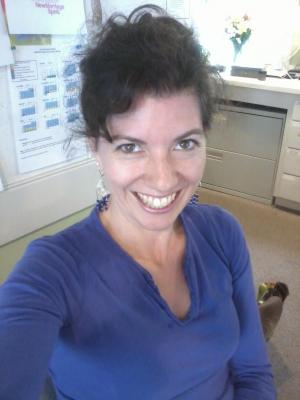 There's little that Vanessa Amsbury-Bonilla won't take on, and most of the time she takes on a lot with a lot of zest.  
Vanessa has been our administrative assistant since 2005, when some UU friends urged her to apply. 
Vanessa has a lot of energy, an abundance of interests and more than one passion – like dancing, for example. At a recent Wednesday night spaghetti supper, she appeared at the church in time for a plate heaped with pasta and greens. Then she slipped into a pair of black strapped high heels – something like 3 1/2-inch high heels – and she joined member Randy Avis upstairs in the Parish Hall where the first ballroom dancing lesson was about to begin.
 "Dancing is a huge part of my life," Vanessa says.  She has been dancing Argentine tango for ten years.
Hiking is also important to her, as is gourmet cooking, gardening, interior design, refurbishing and recycling old furniture, kayaking and bicycling.
"My absolute favorite is back-country hiking. There's nothing like packing up and walking into the woods.  It feeds my soul as much as Tango!" Vanessa says.
Brought up in the picturesque ocean-side community of Edmonds, Washington she graduated from Western Washington University with a bachelor's degree in biology. "My first job was as a naturalist in Costa Rica," she says, and being half Costa Rican and bilingual, working there felt like a natural fit.  "I was really a glorified tour guide. I took people into Corcovado National Park and showed them the flora and fauna. It was a wonderful experience and one I will remember fondly."
Vanessa a short time later worked for the state of Washington's Department of Natural Resources. One of a team tracking the spotted owl, she says, "I hiked day and night, searching for owls for four years until I started a nest of my own." 
In 1999 when her oldest child, Morgaine,  was six months old, Vanessa moved to New Hampshire. "I was on a hiatus from work then."  Two years later she had her second daughter, Catharine.
Then, in 2005, she was divorced and looking for a job and a place to live. Friendly with UU members Anne and Ward Stoops, she heard from them our church needed to hire an administrative assistant. They urged her to apply, and since she had once worked as a paper store manager, in a doctor's office, and in Edmond's municipal offices during high school she decided to try.  She's been PUUC's office administrator ever since and looks forward to many more years helping to run and organize the communications and outreach of our church. She brings her dog Casey with her every day to the office. She is in her third year of being a co-leader for our cooperative program at Otter Brook Farm, taking our middle school aged youth to the farm on Sunday mornings, an example of our seventh principle "respecting the interdependent web of all existence of which we are a part." The middle school aged youth help with planting and other farm chores in exchange for vegetables and greens to be used in the salads at our weekly Community Supper. 
Vanessa also teaches Our Whole Lives, the UU youth sexuality course that is more popularly called OWL, and when she's not in the church office, she can be found across the street as an Administrative Assistant to Administration and Public Works for the Town of Peterborough in the Peterborough Town House.  There she also manages the Keep Peterborough Warm Fund, an assistance program for the 'new middle' who are adequately employed but still find it difficult to heat their homes in the winter. Vanessa also keeps herself busy running an Airbnb out of her home, offering a full breakfast using organic eggs from her own chickens and locally sourced food items. She enjoys welcoming people from across the globe to stay at her home in our quintessential town of Peterborough. "I'm making a little money and friends at the same time!" Someday she hopes to retire in Costa Rica, running a bed and breakfast in one of the most beautiful ecologically diverse countries in the world.