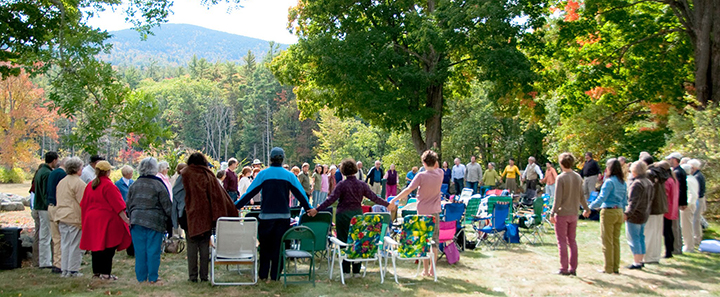 Our Sunday services are lively occasions which include music, caring rituals, social justice, intellectual and spiritual readings, and the sermon. While most of our services have common elements, we have recurring special services that celebrate seasonal transitions, life events, or special congregational talents. The services regularly draw from many spiritual and religious traditions to help us celebrate a broad spectrum of beliefs. We offer these beliefs as part of worship in ways that can help us experience the beauty, spirit, and heart of traditions different from our own. This year, we are focusing each month's theme on one of the Seven Principles.
Elements of Regular Sunday Worship
Welcome & announcements
Minister's welcome
Prelude
Chalice lighting
Opening words
Unison affirmation
Two to three hymns during service
Candles of joys and concerns
Minister's prayer
Silence
Unison response
Hymn #123 Spirit of Life
Minister's time with children
Candle for social justice
Refrain of Hymn #121 We'll Build a Land
Offering and offertory (choir sings every other Sunday)
One to two reading(s)
Musical interlude
Sermon
Extinguish the candles
Benediction
Postlude
Special Services held annually

Special services are held throughout the year, such as the Water and Flower Communions at the beginning and end of the church year, intergenerational services such as the Winter Pageant, as well as Music Sunday and our annual outdoor service.
Ingathering Water Communion
Outdoor service (Worship Committee)
Sunday before Thanksgiving with the Harvest Dinner after worship
Winter Pageant (DRE)
Christmas Eve
Music Sunday (Music Director)
Easter
Youth service with Bridging ceremony (teens, Youth Group Advisor, minister)
Social Justice service (Social Justice Committee)
Flower Communion
Lay-led Services
The Worship Committee creates four to six lay-led worship services each year, which include diverse areas of focus that are presented by congregants and by a variety of guest ministers/speakers. Here are some examples of some memorable/resonant services:
Service of Remembrance: El Dia de los Muertos with a traditional Mexican ofrenda
Worship with Wampanoag elder and storyteller, Monitonquat (Medicine Story)
Tu B'Shvat Seder—observance of the Jewish holiday that celebrates trees and focuses on remembering the inner spiritual journey and our human place in Earth's ecology
A Morning of Kirtan call and response chanting of the religions of India
MLK Day: Loving Our Enemies – A Change of Heart is the Heart of Change: Drawing on the work of Dr Martin Luther King, Jr. and Mahatma Gandhi, and Buddhist metta meditation
A Time In Between: What Is in Our Empty Bowl: Service celebrating luminal space as we entered into interim ministry, including guided meditation and the Hindu tradition of Prasad
In addition to creating collaborative, creative lay-led worship, we provide welcome and hospitality to ministers who come to PUUC via pulpit exchange with our minister as well as those seeking a neutral pulpit. When needed, we also support the minister in the preparation and delivery of regular, minister-led Sunday worship. The committee seeks and welcomes feedback and suggestions regarding all Sunday worship services.
 A lively group, the committee rejoices in working together to create heart-full, music-full, ritual-full worship services that provide an alternative to minister-led Sundays – an alternative that our congregation enthusiastically welcomes. Their work together is a collaborative process that includes brainstorming, winnowing, and honing creative ideas. We hold the stories of our lives as sacred text and look for opportunities for ourselves and other parishioners (adults, youth, and children) to tell their stories. In addition to our amazing accompanists, we seek out other musicians both from within and from outside our congregation. We often work closely with our DRE, Music Director, and accompanist to create lively participatory worship. In our work together, we pay attention to mystery and take time to honor aspects of our personal lives that may come up during our meetings and creative process.