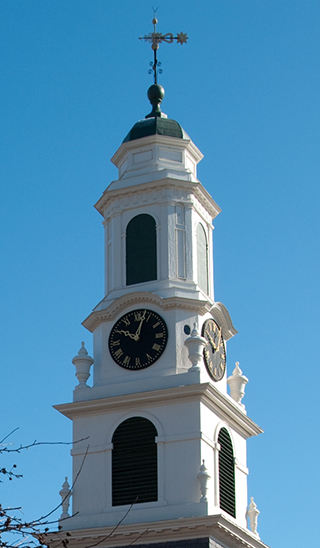 The clock in the church steeple was purchased and installed in 1856 with money raised by a "Clock Festival" organized by a group of civic-minded women in Peterborough. Having a town clock is a matter of pride to the citizens in New England towns. The clock undoubtedly served the practical purpose of being the commonly agreed upon time for townspeople. When the clock was yoked with the church bell, it called people to work and to supper.
The town clock was replaced in 1947 and currently is operated electronically. A member of the PUUC congregation has been the town designated "keeper of the clock."
In the steeple below the clock is the church bell, originally installed around 1841. The bell weighs over 1200 pounds, and was cast by George Holbrook of East Medway, MA. Before telephone and Internet the bell was chimed to call volunteers to help put out fires or respond to a disaster. It was tolled to notify people of a death in Peterborough, three tolls for a child, six for a woman, and nine for a man.