One family's story
A sign of welcome: the rainbow flag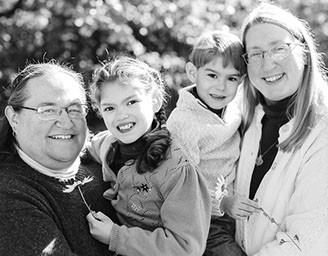 In February, 2014, my wife Sarah and I drove through NH, VT and MA looking for an area that we would be calling home, come summer. Our only goal was to come to New England, and to have winter.
Peterborough had not been on our list, but since it was not out of our way, we decided to cruise through, and get a feel for it. As we turned off of Route 202 onto Main Street, we both immediately noticed a rainbow flag hanging on a church. Out of our two days of driving so far, this was the first time we saw a rainbow flag on a church, let alone smack in the middle of town.  We were not at all surprised that it hung on the UU church.
We were members of our UU church in Denver, and we were delighted that a UU church was on Main Street. Peterborough quickly went to the top of our list of places to move to, and when we returned to Colorado we could say with certainty, "We are moving to Peterborough, NH.
The rainbow flag does not just convey that we are accepted. To us, that simple, multi-colored flag said so much more. It said, "We respect and value you. We want you to be a part of us and what we are doing. We want to hear what you have to say, and will welcome what you can offer us in making us better. We value all people to the extent that we are willing to announce it to all who drive through town. We value the life, love and struggles of the LGBT community as well as other groups who may feel on the fringe sometimes. We stand with you, and for you."
My family has quickly grown to love this area, and we call this place of worship ours.We feel welcomed! I wonder if we would have felt the same way about Peterborough if we had not seen that flag as we came into town that February day.
– Morgan