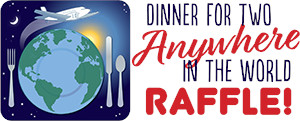 A Note from Rev. Lane
Suggestions for How to Sell Dinner Anywhere Tickets
This year we're asking everyone to help with a new fun-raiser—a raffle for "Dinner Anywhere in the World" for two persons.
The tickets almost sell themselves. For many people, starting the conversation is the hardest part. All you need to say is: "If you could have dinner anywhere in the world, where would you go?" or "If someone was giving you a plane ticket anywhere in the world, where would you go?" You'll be off and running.
My home church and my internship church both have been running this raffle since 2018, and so I tell you from experience that the hardest parts of selling tickets are remembering to take them with you and remembering to tell folks you have them. As soon as I mention this raffle, I sell tickets. A friend asked, "Where would you go…?" on a windjammer sail and sold 15 tickets. Someone mentioned it to her chiropractor and sold 6 tickets. It really is that easy.
For people who like to vacation at home, ask if there's someone, they'd like to fly in to visit them. As the prize rules page https://uupeterborough.org/sites/default/files/2022_PUUC_Raffle_TermsandConditions.pdf says, they can rent a cottage and throw a party or use the prize within the United States. This is a raffle full of possibility, and dreaming about winning is half the fun!
If you have a Facebook or Instagram page, it's even easier. Just share the poster on your page and include a short blurb about it being a fundraiser for your church. Encouraging your friends to share it spreads the word even farther.
Just sending an email to a targeted list of your contacts will sell tickets. Write a short personal note and attach the poster and FAQs.
The drawing will be after worship on Ingathering Sunday, September 11. The winner must decide upon a destination and a restaurant (or two) by January 3, 2023, and must use the prize by January 3, 2024, barring Covid19 restrictions. All travel arrangements must be booked through PUUC or its designated representative.
A truly great thing about the Dinner Anywhere in the World Raffle is that it can meet our entire year's fundraising goal without asking us to dig into our own pockets—although you probably will want to buy at least one ticket for yourself or a loved one. We'll be seeking volunteers to sell tickets at festivals this summer.
We cannot send tickets through the mail—federal postal regulations forbid it—but you can take a photo of completed tickets and text the photo to the recipient, and they can mail you a check for PUUC. Then turn the contact portion of the tickets and money in to DEBBIE BRUCHEZ or JILL SHAFFER HAMMOND or Vanessa (and consider picking up more tickets to sell).
Call DEBBIE BRUCHEZ at 917-833-6365 or JILL SHAFFER HAMMOND at 603-547-0715, with any questions or for a supply of tickets. You don't pay for the tickets until they are sold. The top salesperson will get a gift certificate for dinner at a local restaurant of their choice.
This raffle sets off waves of happy conversations and dreaming. If we sell each of the 1000 tickets we're printing, we'll make almost $15,000 for PUUC. One lucky couple or pair of friends will have a wonderful trip that will be memorable for a lifetime. Will you please help make this happen?
Just ask, "Where would you go…?"
With love and hope,
Rev. Lane