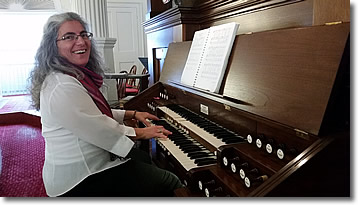 I am an overachieving educator/director/musician/soloist living in Peterborough. I raised three (now incredible adults) children in the supportive and lovely town of Peterborough, and could not be more happy to have recently stepped into the role of Music Director (Sept 2017) here at PUUC.
I live, breathe, and am consumed with music, and with music teaching (private in-home studio and online voice and piano lessons for ages 6 and up). There is NO reason you should not excel at accessing and owning our unique voice, be it speaking, singing, playing an instrument, or discovering one's vocation through finding your unique voice.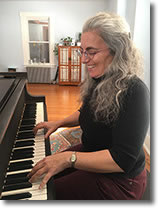 Our church choir is an extension of that important work. All are welcome in the choir (see our music page for details).
A bit more about me...for those who don't yet know me.
I direct this church choir, a community choir, a hospice choir, a newly formed social justice choir (see our music page), a yearly Solstice Choir, a small choir at Franklin Pierce University, and lead workshops in addition to teaching privately. I have spent a lifetime synthesizing my voice, vocation, and livelihood, creating avenues to assist others in doing the same. If you're curious, check out my websites www.voicingscamp.com and www.tworiverschoir.org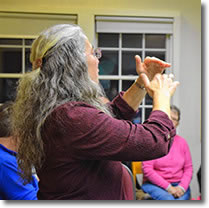 And...2018 finds me delving deeper into sound healing, assisting others in finding their Fundamentally Harmonic selves, and traveling and leading Voicings Adventure Singing Camp. Curious...check out my websites.
Sing with you soon!