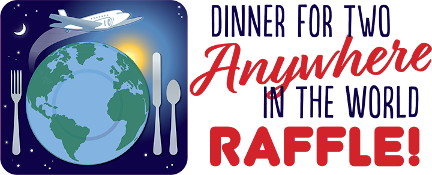 If you and your BFF could go ANYWHERE
in the world for dinner,
WHERE WOULD YOU GO?
Pad Thai in Bangkok?
Peking duck in Shanghai?
Bouillabaisse in Marseille?
A spicy tagine in Casablanca?
Shrimp on the barbie in Adelaide?
Win up to $5000 toward:
• Round-trip airline flights for two
• Two nights' accommodations for two
• Dinner for two at the restaurant of winner's choice
anywhere in the world!
Tickets: $20 each.
Limit of 1000 tickets to be sold.
On sale July 1 to Sept. 6, 2022.
Drawing Sept. 11, 2022.
Contact Jill or Debbie at DinnerAnywhere@uupeterborough.org for tickets.