Meet our new Music Director, Lucinda Ellert.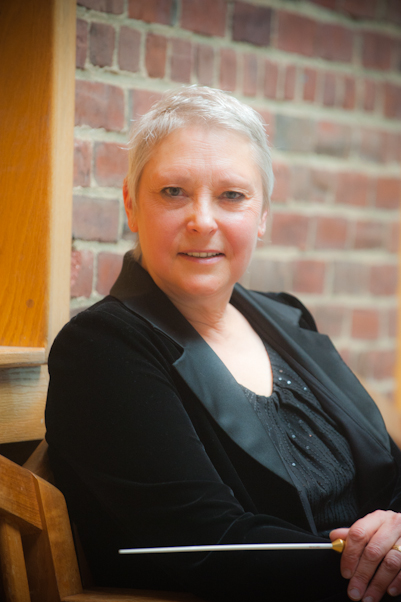 In the last thirty years, Lucinda Ellert has established herself as a music director known her for flexibility, reliability, clarity, and artistic sensibility. A graduate of Grinnell College (1976, Bachelor of Theatre Arts) and New England Conservatory (M.Mus.Ed. 1996, M.Mus. Jazz Arranging in 1988), her musical roots are in the Traditional Jazz scenes of Denver and Boston, first as a ragtime pianist, then as a music director of small and large group early jazz ensembles. She made her name throughout the Boston area for her jazz dance band, Happy Feet Dance Orchestra, as leader and arranger for 20 years. A long-time member on the New England Touring Roster, Happy Feet has produced three albums: Lucinda Ellert and Her Happy Feet, Hop Off, and The River and Me. Her conducting studies were with Frank Battisti and Charles Pelz of New England Conservatory with a focus on symphonic wind ensemble conducting. She is the conductor emeritus of the Reading Civic Concert Band which she led from 2004-2016; she guest conducted with Salem State College band and with the Salem Philharmonic Orchestra and was also Assistant Conductor of the Reading Symphony Orchestra for a time.  Other conducting credits include study with Marin Alsop at the Cabrillo Conducting Institute in Santa Cruz, California; James Orent, Music Director of Newton Symphony and Assistant Conductor of the Boston Pops; and with Mark Scatterday at Eastman School of Music.
Ellert's attitude toward music is grounded in the belief that America has produced a body of music that has no equal in terms of variety, integrity and honesty; however, she feels that musicians and audiences alike suffer from a splintered understanding of how much popular and classical ("high" and "low") musics are linked. Her goal for years has been to puzzle this schism out, try to understand our divided attitudes toward different aspects of our entertainment and artistic cultures and try to find solutions. When not grappling with thorny issues, she is a committed music director who has worked in the United Church of Christ and the Unitarian Universalist Church. She teaches in the Lunenburg School System as an after-school music teacher of piano and winds. She is writing a piano instruction method called "Grand Staff Adventure," a wholistic approach to reading piano music using logic and empathy for all learning styles.
In her spare time, Ellert with her husband, trombonist Daniel Walker, is restoring a historic homestead in Winchendon, Mass. – the site of the first 1747 sawmill in the area. They have a micro-farm, growing all their produce as well as apples and blackberries. They raise chickens and enjoy the beautiful surroundings of central Massachusetts.