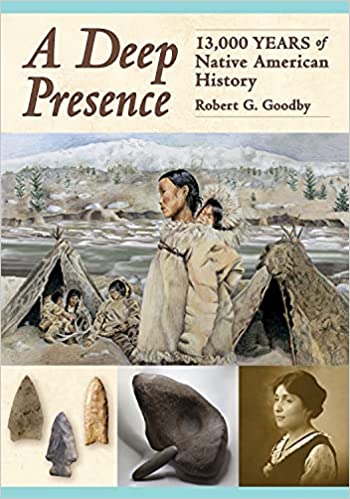 PUUC CONGREGATION reads  A Deep Presence: 13,000 Years of Native American History by Robert Goodby on Tues. January  25 at 7 p.m. by Zoom or Wed. January 26 at 1:30 p.m. by Zoom meeting.
 
Inspired by Rev. Fisher's recent worship service, the PUUC Social Justice Committee is rolling out a series of opportunities to create awareness of the indigenous people of the Monadnock Region.  Our goal is for the PUUC congregants of all ages to be more knowledgeable about our ancestors who originally inhabited where we now live.  We will initiate this learning by reading and discussing a new book, Deep Presence: 13,00 Years of Native American History by Robert Goodby, a professor of archaeology at Franklin Pierce University.  (See synopsis below of this 126-page book ) Copies of the book have been donated to be shared among the congregants. They also are available at the Toadstool Bookstore.  It makes a great holiday present!
 
EVENING PUUC DISCUSSION (ZOOM): TUESDAY, JANUARY 25, 7 P.M.  Contact Mary Vallier-Kaplan to reserve a spot at mvallierkaplan@gmail.com or 603-924-3217  Your friends are encouraged to attend.

DAYTIME PUUC BOOK GROUP (ZOOM): WEDNESDAY, JANUARY 26,  1:30 P.M.  Contact Marsha Morrow to receive Zoom link at morrowmarsha1@gmail.com
 

Overview of the Book:
Almost 13,000 years ago, small groups of Paleoindians endured frigid winters on the edge of a river in what would become Keene, New Hampshire. Thus begins the remarkable story of Native Americans in the Monadnock region of southwestern New Hampshire, part of the traditional homeland of the Abenaki people. Typically neglected or denied by conventional history, the long presence of Native people in southwestern New Hampshire is revealed by the archaeological evidence for their deep, enduring connections to the land and the complex social worlds they inhabited.