Our church serves residents of nearly 20 surrounding towns in the Monadnock Region with Peterborough as the business and cultural hub. Located in southwestern New Hampshire, the Monadnock Region is named for Grand Monadnock Mountain, which is the second most-climbed mountain in the world. At 3,170 feet, it dominates the skyline of the area. The town has much to offer, and (barring traffic) it's within an hour-and-a-half drive to Boston. The seacoast, lakes and mountains of New Hampshire are all easily accessible.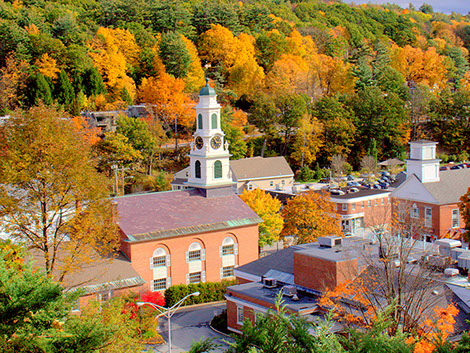 Peterborough, with a population of about 6,300, is the home of a diverse mixture of business and industry, ranging from New Hampshire Ball Bearings (supplier to America's space program) to Staff Development for Educators, and retail and catalog operations such as Eastern Mountain Sports and the Peterboro Basket Company. Other large employers in the area include Franklin Pierce College, Monadnock Community Hospital and Wellness Center, the Contoocook Valley Regional School District, Crotched Mountain Rehabilitation Center and RiverMead, a full-service retirement community.
One of the main attractions for families, however, is the school system. Contoocook Valley School District (ConVal), encompasses nine towns hosting their own elementary schools (K-4), two multi-town middle schools (5-8), and one regional high school (9-12) with 1,100 students. There are also a number of private schools in the area, including Waldorf, Christian, and several independent elementary and prep schools.
And while people often come for our schools, they say they stay because of the area's natural beauty and rich cultural offerings. Hiking on well-maintained trails in the local forests, biking on country roads, wooded trails, and maintained former railroad beds, fishing and canoeing and kayaking on numerous lakes and rivers, and snowshoeing and backcountry skiing are popular activities throughout the area. The Harris Center is a not-for-profit conservation and education group offering day hikes, trail maintenance, and nature camps for children. Cunningham Pond is just one place available for residents to swim, picnic, and fish. There is downhill skiing at nearby Crotched Mountain Ski Area, with low-cost season passes offered through the recreation department and bus transportation from the schools. Cross-country skiing on groomed trails is found at Windblown in New Ipswich.
The arts are strongly represented in Peterborough. The nation's first artist residency program, the world-famous MacDowell Colony, was established here in 1907. MacDowell Fellows often contribute to the region's cultural life throughout the year in the schools and via free presentations. The Peterborough Players' professional summer theater attracts audiences from a wide area, and follows through with live HD broadcast presentations of opera, ballet, and theater throughout the rest of the year. Andy's Summer Playhouse offers plays written for and performed by kids in nearby Wilton during the summer months.
Peterborough is also home to Monadnock Music, which offers a series of ticketed classical music concerts plus free summer concerts in many of the surrounding towns. The Monadnock Chorus is a local 100-member choral group that gives two concerts a year and has made numerous tours to Europe, and has performed at Carnegie Hall. Numerous other choral groups sing throughout the region. Our own Lyceum brings outstanding speakers to the town every Sunday during the summer. Many artists, craftsmen, and writers live locally and contribute to townwide auctions and fairs throughout the year. On the First Friday of each month, downtown Peterborough keeps the lights on late into the evening, with live music, arts, and other events taking place at various venues in the town. The Sharon Arts Center Downtown Gallery stays open until 9 p.m. on First Fridays, often hosting gallery openings on that night.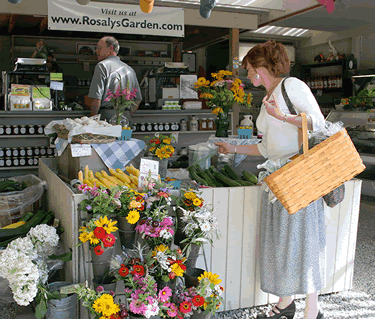 Peterborough has a remarkable relationship with food. Here is the oldest organic farm in New Hampshire, Rosaly's Garden and Farmstand, where you can get fresh organic fruits, vegetables, and herbs during the growing season, and beautiful cut flowers to decorate the table. But that's just the beginning. There are numerous other farms and CSAs with organic or grassfed meats as well as vegetables, and farmers' markets on almost every day of the week in Peterborough and surrounding towns. Small markets, such as Maggie's, Roy's, and Nature's Green Grocer offer quality meats, and organic and GMO-free food stuffs. Specialty stores offer oils and vinegars, chocolates, coffees, and French pastries and crêpes, often in a café setting. Restaurants, just in the downtown area, range from the Peterborough Diner and Nonie's for basic American fare, to Aesop's Tables and Twelve Pine for soups, salads, and specials, to Harlow's for bistro fare and Waterhouse and Marzano's for upscale dinners. Within 2-3 miles are oysters at The Pearl; sushi, Chinese, Japanese and Thai at Yen Yen's and Kogetsu; burritos at Cafe de Olla; sports bar fare at Brady's American Grill; and lots of pizza. Surrounding towns have their own market cafés and inns with full dining.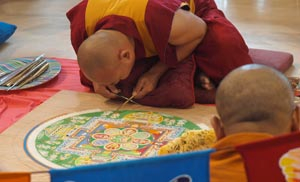 The people of the Monadnock Region care about their communities and take pride in the area's heritage. Our church, originally built as the town church, is now one of 15 congregations in Peterborough alone. There is an active Monadnock Center for History and Culture in Peterborough, as well as the first free, tax-supported library in the world established here in 1833 with a collection of more than 55,000 items. The Mariposa Museum of World Cultures, right across the street from PUUC, offers exhibits of cultural items and clothing collected by the museum's founder during her world travels, and frequent programs and concerts that delight children and parents alike.
The Monadnock Community Hospital, located in Peterborough, is the center of the region's health care delivery system. A Wellness Center at the hospital provides physical and occupational therapy services, as well as general fitness and swimming classes.
The Peterborough Recreation Department supports and organizes activities for all ages. These range from sports programs for children to senior citizen outings, trips to Boston for the symphony, and other events. The town has a large outdoor sports complex and park, which includes fields for baseball, softball, and soccer, skateboarding, basketball and tennis courts, an ice rink, and a swimming pool. An indoor pool at Crotched Mountain Rehabilitation Center hosts a competitive swim team for youth, offers lessons, and fitness classes for adults. The Monadnock Country Club is a public nine-hole golf course and has tennis courts. Indoor tennis is available through membership at the Monadnock Indoor Tennis Club.
The town newspaper is the Monadnock Ledger-Transcript, which is published two times a week. Cable, broadband, and wireless access are available.
Our town is also socially, politically, and environmentally active. Along with our own Community Supper that serves a free spaghetti dinner every Wednesday, several other local churches serve weekly meals. Two food pantries remain stocked and active throughout the year, dispensing food to area residents in need, and there is a community-supported transitional housing shelter. The Town Conservation Commission is active in a number of environmental pursuits. Peace rallies take place regularly on the Town House steps.
The River Center, located in Peterborough, offers individual, parent, family, and community support through parenting classes, health screenings, fuel assistance, counseling and meeting space.
Peterborough is nicknamed "Our Town" because Thornton Wilder used this quintessential small town as a model in his famous play, much of which was written during residencies at The MacDowell Colony. It's come a long way since then, offering a broad range of activities for all ages and is considered by many "a good place to live."
Here are more links to places and activities around Peterborough.