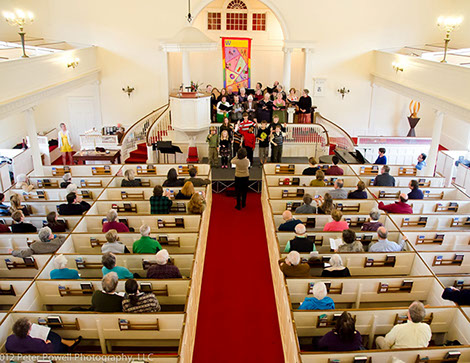 PUUC is in the heart of the Monadnock Region, an area rich in musical talent. It is therefore not surprising that music is an integral part of life at PUUC, on Sunday and during the rest of the week.
Music is woven throughout the Sunday service, as we sing the children to class, celebrate the spirit of life, and dedicate ourselves to social justice. The music program is ably coordinated by the Music Director Maria Belva, who directs the choir, arranges for other musical support on Sundays when the choir doesn't sing, and works closely with the minister to find music which will support the theme of each Sunday's service. Our accomplished organist/accompanist Marybeth Hallinan brings warmth, joy, and creativity to the Sunday music program, supporting singers and instrumentalists alike. In addition, there are often guest musicians - many of them from within the congregation – who provide music for preludes, postludes, offerings, and special musical interludes. Every effort is made to provide, over the course of the year, a selection of music which will meet the musical needs of a wide variety of musical tastes, and to encourage members of all ages to contribute their musical talents.
The choir is small but dedicated, sings at two services each month and at special services as desired. It has a varied repertoire, carefully selected to fit both the service themes and the vocal capabilities of the group.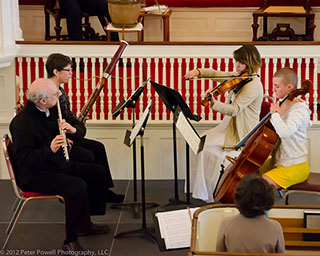 There is an active Music Committee whose mission is to support the Church's Sunday music program as needed and provide opportunities for the church membership and larger community to experience our space and spirit through other musical events. Its prime responsibility is involved with music outside of Sunday worship, although it does coordinate an annual Music Sunday worship service – a celebration of spirituality through musical performance, poetry, and dance, primarily drawing on talents of all ages within the congregation. The Committee sponsors three regular monthly events:
On First Friday, Open Stage is hosted by Chuck Welch, a.k.a. Jack Kid, featuring a variety of music from classical to folk to jazz, along with occasional dramatic readings and poetry. There is a featured performer each month, along with coffee, cookies, and crisps for the enjoyment of all
On the third Friday is held Kirtan, a musical part of Kundalini Yoga involving the chanting of Hindu script. This is an open activity and everyone is welcome. It opens our church to people of multiple faiths and offers musical healing for many who come. In the coming year plans are to add a Lungar to the activity – a meal of traditional Indian food based on the Hindu tradition as a means celebrating the oneness of all.
Each fourth Friday, Musical Soirée is hosted by Mary Seaver, who created this opportunity for the many musicians of our church to play chamber music, socialize, and get to know each other. It is open to all area musicians who can read music, and is an opportunity to make music and expand musical experience.
The First Friday Open Stage and Kirtan gatherings accept donations, which are then contributed to the Church. In addition, the Music Committee generally arranges for two or three fundraising concerts each year, ranging from choral performances – such as the Zumbyes from Amherst College – to instrumental groups and piano and organ recitals. And the Committee may serve as sponsor for outside groups wishing to perform in the Church.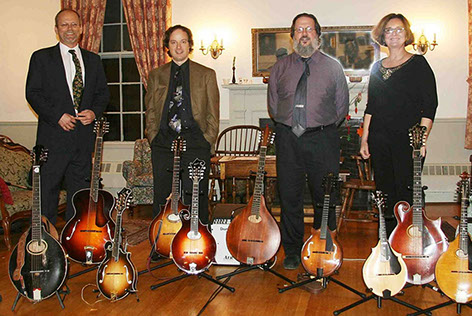 The Church also provides a venue for other musical groups. It serves as the rehearsal and performance home of the Grand Monadnock Youth Choirs, directed by Maria Belva. It is also the occasional rehearsal and performance place for the Peterborough Chamber Choir, led by David Vernier, as well as the rehearsal space for one of the Two Rivers choral groups led by Marybeth Hallinan. Member August Watters brings his fellow mandolin players to our Parish Hall on occasion.
Other musical events are held within the church community. The Worship Committee has arranged for a musical lay service led by an outside professional; Jim Scott who has led services on several occasions. And on the secular front, the congregation has joined in gatherings such as the popular Barbeque and Blues"event, a most satisfactory combining of food and soul food.