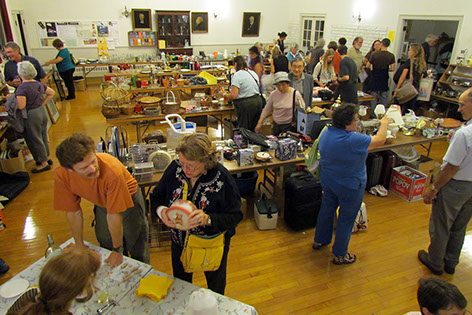 Fundraising is an important contributor the operating budget at PUUC, with approximately $11,000 set as the fundraising goal for each year. While it sometimes feels like a daunting task, the Church usually manages to exceed its fundraising goal.
While there is a fundraising committee at PUUC, many other committees and groups host fundraisers, so the task is shared community-wide. For example, the property committee runs a pancake breakfast each May on Children and the Arts Day. The music committee hosts the monthly Open Stage as well as several other successful musical events each year. A group of church and community people holds a Kirtan each month.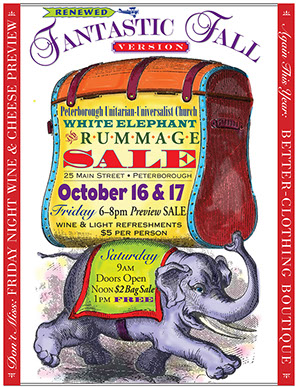 Our most successful fundraisers are those that draw people from the larger community, and not just from within our church. Auctions have been very successful fundraisers, the last one held in the spring of 2014 (raised $5000). An especially popular fundraiser is Barbecue & Blues, the last one held in 2013, and generally planned as an every-other-year event. And the fundraising committee also hosts events that are just plain fun, and not expected to be large money makers, such as a chili cook-off and comfort food competition.
The last church year (2014 to 2015) was especially good, with $16,000 raised ($3000 more than the previous year). A few years back we asked committees to come up with a fundraising idea that would generate enough to fund their budget line item. Last year the RE Committee stepped up with a new fundraiser, March Magic, which brought in $220 and was so much fun that they plan a repeat performance. The Rummage Sale Committee doubled their efforts last year by holding a spring sale. This brought in over $3000, with a matched donation of $2500 from an anonymous donor. In 2014 the Church had the opportunity to raise some funds on the occasion of the Town's 275th celebration—and a hearty crew went to work on it and brought in $800. Historic church tours were part of the day, along with a delicious Colonial Feast in the evening, both of which were wonderful ways to showcase our spectacular building.
2014-2015 Fundraisers
Fall Rummage Sale
275 Celebration
Holiday Stroll
Music in November
Comfort Food
Spring Good Stuff Sale
Open Stage
Kirtan
Sale of coffee and other Fair Trade products
In addition to this list, the church gets some money from iGive (online shopping), and anyone with a TD Bank account can ask to have a donation made to the PUUC Community Suppers.
Grant Writing
In recent years, the committee dedicated to obtaining grant funding has been active. Grants have raised tens of thousands of dollars to pay for new storm windows, badly needed improvements in our kitchen and dining area, and renovations needed to bring our building up to fire code.